Businesses and individuals are often presented facts on which they base major financial or personal decisions.  Accepting these facts as being true can be costly.  Whenever you are making decisions based on facts given you by others it is critical to verify the information.
     My thorough knowledge of and access to internet based resources combined with field observation and investigation can confirm what is known or reveal deception.  Additionally, proper due diligence will often reveal unknown facts enabling you to base your decisions on the reality of the situation.
      From locating hard to find witnesses to researching corporate backgrounds, I will obtain the needed information.  I am equipped with proprietary database access and modern technical investigative equipment to gather the evidence you need.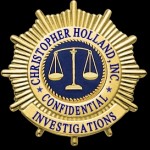 Christopher Holland, Inc.
Suite 130
2604 Elmwood Avenue
Rochester, New York 14618
585-937-3006